Religious Knives - Bind Them/Electricity and Air (No Fun Productions LP) & Untitled Lathe (A.A. Records 7")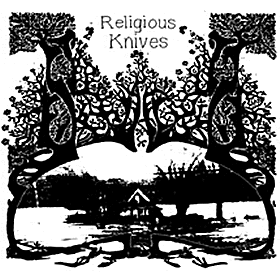 More product from and related to the Double Leopards camp. I guess it's just been that kind of a week. The "Bind Them/Electricity and Air" LP is probably one of the more readily available emissions from the Religious Knives crew, which at its core is composed of Mike Bernstein and Maya Miller and also Nate Nelson of Mouthus this time around (and the record was also mastered by the other half of Mouthus, Brian Sullivan). This 12" on Carlos Giffoni's No Fun Productions is limited to 300 (never to be re-pressed!) and features a whacked-out essay from Tonya Loiterminn of Schism Magazine reprinted on the back. It's something to think about.
Like the title indicates, the record is formed of two side-long jams, about 15 minutes apiece. "Bind Them" bottles up heavy synthesized tribal zones, delicate percussion and chanted vocal invokations. Sacred rites of the hidden temple shit. There's a dark, deeply ritualistic vibe surrounding this one, circa the more obtuse of Sub Rosa "world" compilations via early krautrock a la Can, Siloah, Amon Duul II et al. Forboding and haunting - I approve.
Side two is "Electricity and Air" (the title is taken from the essay). It follows in a similar vein to the first, and I'm impressed at the vision and unity of the two jams. There's a slow-churning, almost depressing synth round-up amidst spooky, clattering percussion...hell's bells style. More vocal intonation. I'm going for a more modern mash-up with this one, maybe No-Neck, Double Leopards and Sunn O))) together in the Pit doing a "quiet one". Awesome. Both these tracks are altogether more structured and less murky/blurred than what we've come to expect from Double Leopards associates, but no less enchanting. In fact, if you find yourself bored with the whole new drone thing of late, give this a twirl for fast, effective relief.
Next is a beautiful-looking but impossible to play lathe from Nate Young (Wolf Eyes)'s A.A. label. The first groove my needle hits seems to be one of locked nothingness, so I'll try the next. Paydirt! The sounds filter through my speaker like a sunbeam through the window. But I guess I shouldn't be talking sunny because this is even more moody and desolate than whatever I heard on the LP. There's some lonely percussion; percussion as in soup cans scraped along your skull, accompanied by eerie charged electro-magnetics. My skin is hell of crawling. Before long there's some equally-deserted, Jandek-style plucked guitar...but then the needle gets trapped in an endless wrecked loop which may or may not be a perfect drone after all. I'm too paranoid to leave my needle there for long, but trying to other grooves seems fruitless. Show's over. I was able to wrangle about a minute and a half of noise out of this thing. Not bad!
This is also a part of that enormous(ly expensive) A.A. 13-lathe box-set that you thought you dreamt up (oh it's real). The box has contributions from other like-minded sickos Aaron Dilloway, Burning Star Core, Damion Romero, Graveyards, Raven Strain, and more, but they're also sold individually (or, were, they might be long gone by now).