GHQ - Cosmology of Eye (Time-Lag CD) & La Poesia Visiva (Heavy Blossom CD-R)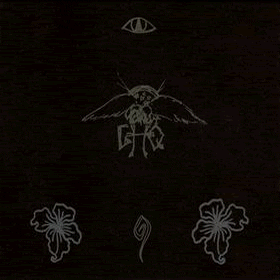 It's been literally
days
since I last talked about something to do with the Double Leopards crew, so I got to thinking I should probably amend that. They make it easy on me, what with all the albums they put out. I snagged these two awhile back when GHQ were active, touring and whatnot. If you're not familiar, GHQ is Marcia Bassett (Double Leopards), Pete Nolan (Magik Markers) and Steve Gunn. All three wield axes (though some are electric axes and some are acoustic axes) and contribute vocals, while I'm led to believe that Nolan handles what little percussion there is here. "Cosmology of Eye" is GHQ's first ever official record, following up two CD-Rs, a self-titled one and another called "Hea". "La Poesia Visiva" was put out just a bit after "Cosmology", actually I think it might've been done specifically for the tour. Ride on.
"Drink the Good Moon" opens up the set, and it reminds me more of (instrumental) A Silver Mt. Zion than Double Leopards which I find to be wholly bizarre and disturbing. Seriously! Listen and you'll see. The hem/hawing strings, unsettling loner guitar warbling...the only thing diverging point comes from the yawned-out blisstatic vocal drones coming from the mouth of Mr. Nolan (I think). The title-track is a slow mutator, blurring and transmogrifying and uniting the heavens with the oceans...probably as DL as GHQ is ever going to get. "Drift - Void" is a constant bantering of repetitive acoustic guitar schlocking teamed up with some weightless vocals from Marcia, maybe? I dunno, I get lost. But the real diamond here is the 13-minute album centerpiece "Lie, Live, Make It" which I swear to god is what you'd get if you had Jack Rose playing on Skullflower's "Exquisite Fucking Boredom" record. Holy blistered stomping raga-romp. They coulda stretched this mother out into an album-length epic and I think I'd like it even more. Session concludes with "Black River Apples", a very Pandit Pran Nath/La Monte Young-influenced number, despite the lack of tambura. It's a pretty bare-bones joint, eschewing most distortion and effects for a singular repeating acoustic riff and more throaty intonations. Saving the best for last then? The first three short ones aren't total mind-rapers but the last two dial up supple sleep-slug psych-outs, real charming like.
"La Poesia Visiva" is the same length as "Cosmology", about 34 minutes, making me wonder if these couldn't have been crushed into one heavy frame. The first track (they're all untitled) is quite a bit different from anything on "Cosmology", much darker and more intense, building up to a rather hellish throb with muscles a-rippling and tendons a-bursting. Dig the amplifier explosion towards the end that almost throws the whole thing off a cliff. The remaining three tracks are softer, more akin to the last album...in fact I'm wondering if they were recorded at a different time than the first cut, but then again maybe not. They're kind of like the last track on "Cosmlogy", stripped-down barefoot acoustic ragas only with some much more funky tabla-ish percussion. Maybe a much more minimal Konono No. 1 crossed up with Cul de Sac or something like that. This album's "epic", track three, is a bit of a disappointment in its washed-out drumming and too-subtle psych rock moves, but I think I was spoiled by the other one. The last track is vaguely similar, but the harmonica (I think?) drone running through it makes me feel washed in the salts of the sea and it is a good feeling after all.
Both these albums are still available as far as I know, and worth investigating if you're all up in the DL's grill. I'm digging how these Double Leopards offshoots are adding different kinds of touches and ingredients to their vibes while at the same time retaining the DL spirit (like Religious Knives, for example). It's like a bunch of different branches from the same tree and all their fruits have some very sweet nectar to be sampled, and if that doesn't quell your sweet tooth for a few days then you can just buzz off.