Kolumkilli - Cyprus / Thames - Volume VII / Wapstan - Thunder of the Tundra (Pasalymany Tapes CSs)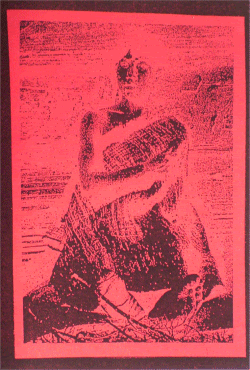 Maybe you know the Montreal-based Pasalymany Tapes label from their AIDS Wolf "Freedom Summer" cassette. Maybe you don't. Either way, the scoop is that they recently released a quartet of long-awaited tapes from various Montreal-based heads. Unfortunately I can't find the fourth one (Black Chicklets' "Slow Quease") so you'll have to deal with a review of the three that I could track down. OK?
Kolumkilli is one Iain McMaster who got his start (and still gets his tunes started) with pure scorching guitar drones, but now he's piling all different kinds of things on top of said drones and it just makes for a sweeter, blissier experience. Iain is totally at the top of his game on this tape, spewing out power previously only attainable by seeing the man himself perform live. The A-side bears the deliciously-monikered "No One's Grieve Under So Many Lids", a beautiful side-long run and a complete spectral float through delayed and effected guitar and voice but mainly bells. Those heavenly heavenly chimes! Chintzy, jangly, hallucinatory, haunted, you name it and that's where you'll wake up. But the
true
mayhem is reserved for the title-track on the flip, a serious whopper of old and new coming together in maximalist drone fusion nirvana - Cale and Conrad's 60's drones hitting the pitch with the best parts of your pals in Double Leopards and the Skaters. Tough to pick apart this jam, it's all blue smoke wafting through my ears at this point. But if the aforementioned bands are your bag or you just feel like being bugged out to the tip, you gotta get up in this holistic teepee swathe. Iain's live shows legitimately ruin and I've yet to come across a soul who didn't have their eyeballs blown through the backs of their skulls - pick up this hot note and try on a sample for yourself. Bummer it's only a c26 - I could use a cTwelve Billion of this.
Thames is the joint project of Blake Hargreaves (Cousins of Reggae, Dreamcatcher, etc.) and Alex Moskos (Unireverse, Et Sans, etc.) and this is actually the very very first time I heard the fruits of their collective labour (I missed out on that lucrative 5xCD-R they did awhile back, unfortunately). "Volume VII" seems to be a continuation of the damaged-synth/analogue/reel-to-reel/drum machine ethos I've heard they fritter around with on their other releases. Side one has hugely deformed mechanical belches and grooves, oft noisy but always lo-fi. Little machine gun supernovas work the lead on this track as it slowly locks into a kind of Einsturzende Neubauten/Throbbing Gristle-played-at-the-wrong-speed chug, aided and abetted by various hidden vocal stumbles. The B side is divided into a couple of tunes, the first one more of a rambunctious screamer, like a metal machine version of Cousins of Reggae. It's not too bad. The other song sounds like quite a bit of guitar noodling, more muffled voices and various clicks and scratches. It almost sounds like it's about to explode into something grandiose but instead just deviates back into the churning electro scrape that we heard way back on side one. It's none too bad but at 30ish minutes, maybe a bit too long.
Last but not least is Wapstan, aka Martin Sasseville who specializes in self-proclaimed "hypothermic drones". He also runs a very prolific label called Brise-Cul, and has put out releases by Kolumkilli, Roxanne Jean Polise, Oscillating Innards, Black Mayonnaise, Luasa Raelon, and others. Most immediately striking about Martin's "Thunder of the Tundra" tape is the cover art - a burly, glum-looking, battle-torn viking jerking off. No shit. The picture comes courtesy Matt Anderson who also goes by Crank Sturgeon, so now things make a bit more sense. Anyway this c30 is subtitled "landscape sounds to scare gods" which is actually surprisngly accurate once you hit play. Both sides are definitely hypothermic drones, with the first one almost alarming in its single-mindedness. If you've ever met Martin, you'd understand why it's hard to picture him comitting to a single-note drone for such a long period of time. But he does, and the result is a very atmospheric, dark ambient-cum-Sunn O))) piece. It sounds like unsettled weather rolling across a frozen snow-encrusted plain...much like the title. The other side has a bit more activity, with Martin cautiously turning knobs and generating some kind of weirdo spaceship sounds before putting the resonance up around 11 and leaving you with nothin' but tape hiss.
Of course you might call me biased because I know a couple of these guys in
real
life, but since when has that ever stopped anyone, myself included? Carlo at Pasalymany has definitely stepped it up with this batch of releases, and it was well worth the time it took to get them in my hands. I'm not sure what the odds are of one procuring any of these outside of Montreal, but that's not my problem! Check the Pasalymany website on the right side, maybe they can help you out - I just listen to them.