Robert Piotrowicz - Rurokura and the Final Warn / Xavier Charles & Robert Piotrowicz - /// (emd.pl/records CDs)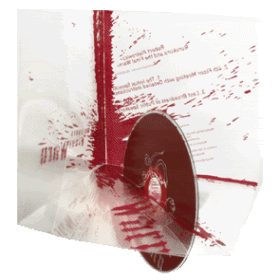 (Note: according to the label the name is indeed "emd.pl/records" and not simply "EMD". The appropriate changes were made below)
I don't know who emd.pl/records is. I didn't even know I had given them my address but I must've since a package containing these two CDs showed up one day. It was hard to glean much more information from the CD packages too - which are very extensively and excellently rendered but a bit short on the information side of things. Part of the emd.pl/records mystique. The fact that they're releasing records by Polish noise/electro-acousticeer Robert Piotrowicz and the ".pl" in the URL leads me to believe that they're operating out of Poland, but the jury's still out. As you can see I chose to use the images from their website that demonstrate the creative (and sometimes maddening - the CDs keep slipping out!) packaging emd.pl/records put to work for them and their artists, since a simple full-on cover shot of the albums probably wouldn't have done any good. But at least with those you can kinda see how it all works. The Piotrowicz solo disc is the pink one held together by a flexible textured plastic case while the collaborative album comes in the cardboard package, completely blank except for three small white slashes on the reverse side. Very curious indeed.
Robert Piotrowicz is a name I'm not immediately familiar with although he has performed with such names as as John Butcher, Kevin Drumm and Zbigniew Karkowski. "Rurokura and the Final Warn" appears to have a vague concept to it, with titles like "The Initial Speech", "4th Floor Meeting with Detailed Instructions", "Last Broadcast of Public Speakers" and "The Final Warn" (there's only four songs), although I'll be damned if I could figure it out since the only talking Piotrowicz does comes throgh his synthesizer and "electroacoustic devices", apparently combining his synth and an electric guitar into some kind of bastard machine. "Talking" is definitely the right term though because "Rurokura" has the unmistakeable sound of living breathing organisms behind it, as if the composer is communicating with natural extensions of his own mind and/or body. I'm sure just about everybody's heard an electronic album that left them cold, but this one is quite the opposite. "The Initial Speech" brings on repetitive, plodding electronic percussion not at all unlike Daniel Menche's recent efforts or Merzbow's "Merzbeat". If you're anything like me you'll be nodding your head along in due time with each successive beat until it slowly dawns on you that you're no longer headbanging to anything in particular because the sounds have all bled together and there isn't any discernable rhythm, just a long-burning stew of microtonal scourges and sounds like a crowd in a panic. "4th Floor Meeting" and "Last Broadcast" are both urgent, frenzied approaches to synth-based noise and rapidly instilling a feeling of being trapped inside a metal junkyard during the midst of a hurricane. Album closer "The Final Warn" plays out a lot like the scenes in Silent Hill (the games or the movie, your pick) where the city alarm goes off and there's that eventual descent into the true depths of terror, namely the kind of depth where you're worrying about Pyramid Head not tearing the skin off your naked body. Am I right? Of course I am. At 11 minutes it takes up almost a third of the album's running time but its well worth it as it gathers together a ferocious roar and by 10:45 (or so) you're starting to think that maybe getting your flesh ripped off isn't so bad in comparison - but then it cuts off; the siren fades, the sun comes back out and all's right in the town again. For now at least.
The "///" collaboration between Piotrowicz (on synth and guitar( and Xavier "Don't call me Professor X" Charles (on vibrating surfaces and CD player) is only a single 22-minute track but seems to last for so much longer due to all the sounds that are packed inside. After a brief and intelligble "spoken word" performance that sounds like something from Schimpfluch-Gruppe, there's on-rushes of static acid rain, electro/metal skull scraping gestures, gaps of decaying feedback drones, makeshift percussion and strumming, samples/found sound clips, and a lot of electronic and noise marring/wounding throughout...the chorus of applause at the track's end came as a surprise to me as I figured with all these sounds they surely must've edited down and compiled a longer set. But apparently not - it was all played live on July 26th 2003 as the emd.pl/records website will attest to. They've also got a Charlies/Piotrowicz video posted which I'm going to have to check out to see if I can figure out just how the heck they're doing it.
If the fellas over at emd.pl/records continue on course with high-quality releases and exquisite packaging, it's no longshot to say they'll be name-checked among the greats in no small time at all. Even with these, their fourth and fifth releases, they're carving out a pretty hefty niche for themselves in both departments of the eye- and the ear-catching. For now, definitely one to keep an eye on and worth investigating if you're feeling adventurous.