Boris - The Thing Which Solomon Overlooked Vol. 2 & 3 (Conspiracy LPs)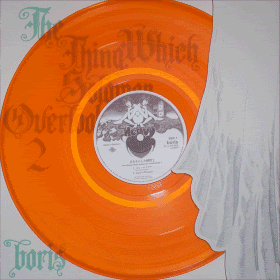 Boris' crusade to render their fanbase broke and homeless continues with the simultaneous emergence of these two LPs, the follow-ups to Vol. 1 released in 2004 on Kult of Nihilow (ltd. 550 copies). These two are more readily available, limited to 1000 each, but the band still won't make it easy - 300 copies of Vol. 2 were pressed on green vinyl and 300 copies of Vol. 3 were done in blue...the rest are all orange (the same colour as Vol. 1, for the record...no pun intended). The blue/green editions sold out in the blink of an eye but the "regular" versions should still be available. Hey, at least this time they didn't do two different versions with different packaging and additional music not available on the other version blahblahblah and so on and so forth.
2004's Vol. 1 marked a bit of a change in Boris' style (however temporary) by showcasing a more thoughtful, shoegazey side of the band that had only previously been hinted at. However the first volume did feature vocals, whereas these two records are completely instrumental. The first track on Vol. 2 ("No Ones Grieve Part 2") comes at you with both guns blazing, flattening the listener with a straight-up
attack
of heavily fuzzed-out guitars, bass, and frantic drumming. This sounds more in tune than what the band accomplished on the recent "Pink" album. The next track is "Dual Effusion", whose corners crinkle with all kinds of dreamy, ghostly, fuzzy sounds. Kind of like staring into the yawning abyss. On the flip side is the aptly-titled "Merciless", a 15-minute guitar drone piece that sucks the air right out of your lungs. This is more akin to Boris' tourmates Sunn O))) than Boris themselves. The last song is a brief ambient outro called "An Another After Image", the perfect medicine for those third-degree burns you just suffered.
Vol. 3 follows the same format (two songs per side) and kicks off with a slow-paced ambient number called "Leviathan", which really doesn't ever turn into the hulking seabeast you'd expect it to. Oh well, "Dimly Tale" makes up for that. It's a noisy, doomy excursion that slows down to a screeching halt about ten minutes in and silence and bass-y drones finish the song off. "No Ones Grieve, Part 1" is on Vol. 3's B side (go figure) but it's actually more like a sister piece to "Merciless" with heavy riffs and droning in abundance. This one is more reminiscent of Earth but with a distinct Boris touch. The last track of the set is the epic "Sola Stone" which is very reminiscent of the band's classic 2000 album "Flood" (except that it's 15 minutes instead of 50). More slow, crunchy riffs and depressive caveman-esque drumming beat their way into your psyche, eventually picking up steam and turning into some kind of thrashing, punk rock, Skullflower-indebted jam session. Nice! Are the creative juices of Boris ever going to dry up? Sure hope not.