U W OWL - Thorn Elemental (Phaserprone LP) / HsDom - VOMC / Southern Man & Pykrete - No More Love (Phaserprone CD-Rs)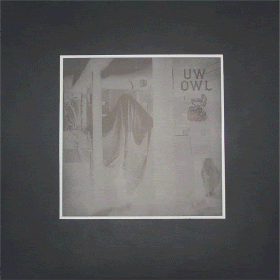 When Jonas of the New York born and bred Phaserprone label wrote to me asking if he could send some stuff in for review, I didn't hesitate to accept. Because I'm a leech. No actually it's because a quick glance at the Phaserprone website revealed four very slick-looking albums that anybody should love to get their hands on. But I was completely unprepared for when the day came to crack open that box and unleash these four (I know I only listed three, more on that later)
gems
. I don't know if there's government money at work or if the Phaserprone guys were art students and have access to all kinds of fancy machinery but the packaging here is totally decadent - the CD-Rs come packaged in super thick, heavy cardboard gatefolds with letter-pressed art, glossy photos and really weird quasi-dot-matrix-style print outs and Xeroxes (and the CD-Rs themselves have some professionally-printed art going on too). The tape they sent is housed in a cardboard wrap-around with great silver inked artwork and the LP features more letter-press, more photos, and more inserts. I know it's ultimately the music that matters man but isn't it just a billion times better when it comes in such lovely, eye-pleasing formats? I think so.
The bizarrely monikered U W OWL released their debut LP "Thorn Elemental" last year, and as it turns out they're also the same guys who run the label, Jonas and Jochen. What's strange about this record is that it doesn't actually
say
the title anywhere, so I'm just going by what their website tells me. The first track on the first side is called "Black Flag" but actually reminds me a lot more of Black Dice circa their latest record. It's quite a bit bouncier than the dark cover art would suggest, although there sure are plenty of industrial/dark ambient shadows afoot. I could easily throw some rhymes over this track. Okay not me. But somebody with talent could. There are four more tracks on the side but it's not altogether clear when one stops and the other begins - or I just wasn't paying enough attention. Besides, sometimes it's more fun to just float along with their super thick bass throbs like mega-slowed versions of Coil's "Panic" or perhaps something from a non-shitty Skinny Puppy. At times the duo's synth and keyboard (and who knows what else) squelchs err a bit too much on the side of electro/goth pastiche for my liking, but that only really happens at the beginning. Near the end of the first side they're sounding like a strange combo of Wolf Eyes in their come-down moments (or their quieter phases like on parts of "Dread") and a psychedelia-laden shoegaze band by way of laptop. The second side pushes their sound a bit more "out there", with unplaceable samples, scrap metal, digital drones, moans and foreign alien jazz chants. I don't think "Thorn Elemental" would be at all out of place alongside bands like Supersilent and MoHa! on Rune Grammofon. I'm not in love with every part of this record at every time of the day but I think that's part of its charm - I certainly want to revisit it a few more times and try and crack the black magick code Jochen and Jonas are weaving here. The website and insert claims these tracks were selected from a series of improvisations spread out across the past few years, something which I'm altogether suspicious of (the improvisation thing I mean - these pieces often sound so coherant I'm beginning to wonder if the two U W OWL men aren't attached at the brain).
Jochen also moonlights in a solo project with an even more difficult name, HsDom. His album is called "VOMC" and doesn't sound at all far removed from the U W OWL record except I detect a bit more of a Fennesz or FM3 touch on the near-hour-long disc, specifically on tracks like "Seewege" and "HP Burning Hand". There's still a definite 80's Coil/Nurse with Wound vibe, but Jochen throws plenty of loops like the Aphex Twin/"Selected Ambient Works"-style dream haze found on "Eulen Flug" and "MOT/9,596,700" and the foggy busted rhythm break of "ASCii". The rest of the CD-R locates HsDom in a highly-digital and programmed lair, layering raygun sound effects atop looped dark ambient wing rides.
Finally there's a collaboration between two artists I'm completely unfamiliar with, the North Carolina/Berlin duo of Southern Man and Pykrete, also from North Carolina. The sounds here are quite a bit more difficult to place but the playing shakes out images of taking a bath in the vast outer space landscape, with various stars exploding and fizzling out around you and the gentle weeping of Pluto trying to get over its total scientific smackdown. "No More Love" is a bit too jittery to be classed as straight-up ambient but it sure has those tendencies. There's a lot of broken-electronic clatter cobbling itself together to form some kind of mutant, bent rhythm that the group cultivate for the duration of the track, before moving on to something new. The 9-minute "Apheresis Cathect" is almost catatonic as it shifts subtlely between dead battery gizmo gasps and gentle droning white noise dizzy.
As I mentioned before I also got a tape from the Phaserprone folks by Grasslung, who is Jonas of the U W OWL duo. The tape is called "Psychic Venom" and limited to just 45 copies, but there are two snags here - one, I couldn't get my animated GIF to work if I included the tape cover art (hey fuck you computers are TOUGH) and secondly, the website states this is a 45-minute tape but for some reason my A-side clicks off after about two minutes and my B-side features about five more minutes of sounds followed by a huge whack of silence. Now I didn't play around with the tape to find out if it was my set up causing the technical difficulties since I was already way behind on writing the review, but I'll definitely dig into that later. Anyway the roughly 7 minutes of action I did get were of an impressive, locust swarm/storm sounding throttle, considerably more noisy than anything else featured here. I would've liked to hear more, but alas it was not meant to be this time around.
I'm pleased to report at the end of everything that the audio on the Phaserprone releases lived up to the heart-warming packaging, especially on the U W OWL LP which is such a mysterious beast that I encourage you to buy one and then we can have a sleepover where we discuss it at great lengths and try and wrap our grey matters around it (you bring the popcorn). Also try and get the Grasslung tape so I can swap mine for yours when you go to the bathroom. Thanks.