Doubled Yellow Swans - Global Clone & The Rita - Thousands of Dead Gods (PACrec CDs)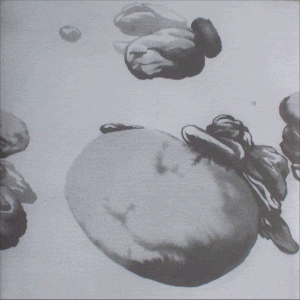 Two more heavy heavy noise jams from the hardest working man in noise, Phil Blankenship (courtesy his PACrec label). As is custom to the PACrec tribe, these discs arrive in black and white cardboard sleeves with a minimal amount of information printed on the back. The Yellow Swans disc (performed here under the "Doubled" prefix) is actually a compilation of a bunch of out of print tapes from 2005, as productive a year as any in now-Californian based duo's repertoire. The Rita is a solo performer from Vancouver who also goes by the aliases BA. KU. and BT. HN.. Don't ask what those mean, it's like Christopher Columbus' signature to me. "Thousands of Dead Gods" is his second full-length disc ever, first for the PACrec label.
I'll start with the Yellow Swans release, which is great right off the bat because I missed all these releases the first time around so it's like a nice little primer for the year 2005 in Yellow Swans history. Five cuts on here, all are untitled but I can read the info off the back and tell you where they come from - one is from a tape on Tone Filth (Declawed), two is from a split with the Skaters on the Swans' own Jyrk label, three is from the DeathBombArc tape club series (a split with Sex with Girls) and four and five are off a 23 Productions cassette (Damaged). All five tracks move with a singularity, demonstrating the Swans' classic drone/noise/busted machine/effects sounds that are just as hard to place as they are to digest. The first one is a 10-minute filibuster, the equivalent of having major dental surgery performed in the basement of Lockheed Martin, with all sorts of mysterious clangs and jolts punctuating the soft whirring soundtrack laid down by the drill. I think if you listen closely you can even hear some guitar! All that placid near-ambience helps prepare you for the 22-minute hovercraft that follows, which seemingly goes through a series of "acts" steeped in low metallic tones, industrial-level drones, spaced-out extra-polarity and battery-charged whining, buzzing and general haziness. Track three is another 10-minute opus, midway through I think Pete Swanson starts smashing shit a few minutes in, recorded his cries of anguish and then played them back at half speed. At least, that's what I'm hearing. Also the little "outro" to this track has been banned in several states because if you play it enough times on headphones it makes you want to stab icicles into your brain by way of your nostrils. Try it if you don't believe me but don't say you weren't warned. Last two are a fine couplet of more active/abrasive sounds as Gabriel and Pete rain down loads of funky sounding whoops and laser beams and photon blasts (check the "solo" two minutes in) on the first one and play it almost like a rock band stuck in slow-motion reverse on the latter, crossing all kinds of early Broken Flag/Siltbreeze lines. It's almost like if you just listen a little bit harder you can pick out a severely deconstructed song (but a song nonetheless) if...only...I...concentrate...and...bah it's gone.
If the Yellow Swans were using the full range of colors on their palette, the Rita on the other hand seems focused on shades with names like smoke, fog, charcoal, grey, jet, night, midnight, black, and so on. "Thousands of Dead Gods" is ambitious both in its title and in its running time - 59 seconds short of an hour. I dig (what I've heard from) the Rita and all but I don't think I want 60 minutes worth of uninterrupted scathing static and harsh electronics. It's like if you cooked me a 200-pound chicken. I like chicken and all, but I'm going to have to put some of that in the fridge for later...you know? Maybe it takes a more hardened noise warrior to appreciate the Rita's eternal moonshine of the psychotic mind but it's hard for me to derive too much enjoyment from a disc that sounds the same at minute 7 as it does at minute 19 as it does at minute 43 as it does at minute 59 - although I must say I'm impressed at the fact that this was all recorded live to tape. It means Mr. Rita has a much greater attention span than I, that's for one thing. Another thing about this disc is that apparently the source sounds are from "Great White Shark cage diving, underwater, and from the deck". A tantalizing prospect to be sure but why bother if it's just going to end up sounding like the electronics used and abused by other noise musicians? It's like a review I read the other day about DJ Spooky and Dave Lombardo's album "Drums of Death" - what's the point of using Lombardo if you're just going to make him sound like any other drummer? So, 200-pound chickens, Michel Gondry references, Slayer drummers...is any of this getting through to you??? Good. Now explain it to me.
I don't really know if I'd consider either of these two releases essential, especially if you already own some of the Yellow Swans material and are not well acquainted with the Rita in advance. But on the other hand "Global Clone" is a must if you're a YS nut and if you're willing to take a chance on an hour's worth of a constant, overwhelming aural assault from beginning-to-end in the form of "Thousands of Dead Gods", then why not add it to your cart? Nothing to lose except your hearing.