Masayuki Takayanagi New-Direction-Unit In Concert - Axis/Another Revolvable Thing Parts 1 & 2 (Doubtmusic CDs)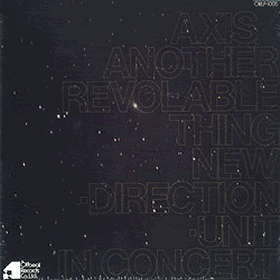 First things first - in case you, the sharp-eyed reader, noticed the cover art reading "Revolable" instead of "Revolvable", well that's cleared up right away in the liner note. The cardboard sleeves these discs are housed in are exact reproductions of the original Offbeat LPs - right down to the glaring spelling mistake. The title really is supposed to be "Revolvable" and that's how it's referred to in the liners and on the CDs themselves. And that's just an example of how thorough these reissues are. Teruto Soejima's reportage on Takayanagi and the New Direction Unit is present in both Japanese and in English as well as a full personnel listing - Takayanagi on electric guitar, Kenji Mori on reeds, Nobuyoshi Ino on bass and cello and Hiroshi Yamazaki on drums - and even what equipment was used, if you're into that sort of thing. Both these discs were recorded on a single day: September 5, 1975. I remember it well. I was sperm. And since my dad didn't go to this show (to my knowledge), I have to live the experience vicariously through "Axis" parts one and two, though the pieces aren't presented in the order they were played. Part one hosts "Fragment II", "III" and "VI" while the second one contains "I", "IV" and "V", in that order. I'm assuming this is to spread the love around as the two "Fragments" are examples of Takayanagi's gradually projection playing style (in a word, calmer) and the last three are mass projection pieces (in a word, frantic). The odd one out is Hiroshi Yamazaki's percussion solo, "Fragment III".
Part one opens with "Fragment - II (Gradually Projection)" and the term "gradual" is a bit of a misnomer in this case because the track never really builds to anything. It starts sparse and 15 minutes later it's just as sparse as when it began. That's not to a fault though because the gentle moments turn out quite nice - Takayanagi's guitar sounds almost harp-like at times and Mori blows some great, hollow-sounding dustbowls. The percussion is very minimal the whole way through, with Yamazaki sounding frequently like he's playing with his hands. The cello plays a very understated role the whole way through and you could be forgiven for thinking it's absent entirely if you're not paying attention. "Fragment - III (Percussion Solo)" is no more and no less than what the title says. Across 13 minutes, Yamazaki takes time to further Takayanagi's gradually projection theory by starting off slow and meditative before moving quickly into free-wheeling bass drum rolls, delivering an absolute shellacking onto his kit. By the mid-point Yamazaki throws out some Han Bennink tinged clatter, seemingly playing everything but the skins of his drums. For the conclusion he builds a dense cymbal rapture up from a state of almost total silence and goes out in a blaze of slightly-restrained glory. Yamazaki's high energy finish makes sense two seconds into the final track "Fragment - VI (Mass Projection)" which sees all four members playing their fingers and lungs raw for the entire 23 minute duration. Most remarkable here is Takayanagi's guitar sound, somewhere in between Sun Ra's Moog titillations and U.S. black metal band Velvet Cacoon's infamous "dieselharp" hoax - a guitar that supposedly ran on gasoline. No shit. It's tough to weather a storm that has Takayanagi absolutely flaying his strings, Mori unloading endless spools of brass yarn, Ino sawing his cello in half and Yamazaki playing like he's trying to murder a thousand spiders with his stickts, but it's most exhilerating and rewarding once you do. If you're the kind who rushes to the window to watch the lightning rather than under the bed, mass projection is right where you're at.
"Fragment - I (Gradually Projection)", the number that opened up the day's events, is the one that opens disc number two. It's quite a bit more active than the first gradually projection piece we heard. Whereas "II" had some lengthy gaps of near silence, the group are in continous motion on "I" with Takayanagi taking the lead and plucking notes out of the sky while Yamazaki provides gentle loping percussion and Ino anchors the ship with basslines that almost border on stunted jazz standards at times. Kenji Mori opts for some kind of variation on a flute, sounding almost like a slide whistle. By the twelfth minute Yamazaki augments his drumming to a constant, coursing flow and the quartet all throw in much more tighter, urgent sounds. Mori's tweeting lends a disorienting, loopy vibe to the whole track particularly at the coda when he actions almost entirely in duet with Takayanagi. Next is "Fragment - IV (Mass Projection)" and doesn't start with the same jolt as the mass projection tune on part one but rather builds up ominously, Takayanagi's guitar feedback looming just overhead like an albatross. Eventually Takayangi sets the bird free and it lands on your skull, emitting shriek after howling shriek of strained and shredded tones. The rest of the band play almost sweetly, like they're fighting one of those monsters where the only way to hurt it is to love it. And ain't that just a tragedy. Like the clown who cries on the inside. Because he's listening to that song. Get it? Me neither..."Fragment - V (Mass Projection)" is the last one, and it starts even slower than the one before it. Kinda like Graveyards are doing now when they hit their long, droney strides. Mori plays out front with Braxton-esque bug-eyed flutters while the remaining three fall back and focus instead on creating an intense, forboding atmosphere...Takayanagi performs very intermittently here, letting out the occasional death tone from his axe and watching it float around in midstream. It sounds curiously enough like a gong, picking up the pace as the witching hour approaches to the tune of Yamazaki crashing his cymbals into a near-white noise stew before his arms fall off (I'm assuming) and the track crawls to a close.
If you weren't around in the 70's to secure one of the original "Axis" LPs, you don't need me to tell you that these are straight up required listening, especially if you're big on the modern crop of jazz noiseniks - Borbetomagus, Last Exit, Flaherty/Corsano, Graveyards, et al. Maybe it's not as required as Takayanagi's "Eclipse" (recorded with the same quartet and also set to be reissued I hear) or "Call in Question", but it's all dazzling to my ears. If you're like me and mourning the fact that these weren't reissued on the same format they first appeared on, Doubtmusic at least softened the blow by doing up the packaging exactly like a mini record sleeve. Hey I don't care if it's a psychological thing, it works for me! So unless you've got quite a bit of cash to drop on eBay, you'll have to "settle" for these two incredible slabs.