Hildegard - Masterik & Various Artists - Graag Traag (Sloow Tapes CSs)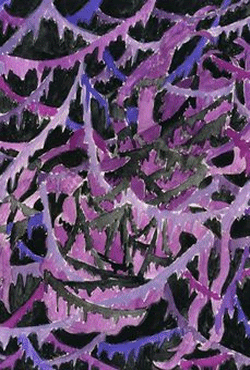 All right! I finally got ahold of some Sloow Tapes! I can die happy now. Although all it took was me emailing the Belgium label's big cheese Bart and asking if I could just buy some...for some reason it seemed a whole lot more difficult than that. Maybe it's because all the tapes look so beautiful and are so limited (about 60-80 copies each) and the label has such a great rep (releases by Graveyards, My Cat is an Alien, Family Underground, Number None, Keijo, Larkin Grimm & more). So now every month I gotta check back for another one lest I miss out - look, there's a brand new one already! Actually, don't look. Because then you might buy it. Let me get mine first, OK?
Hildegard's "Masterik" is August's Sloow Tape, a c50 and still available as of this writing. Features some lovely artwork, a green spraypainted tape, and even better sounds on the inside. I've never heard of them before but I guess Hildegard is a kind of regular unit featuring members of Astral Blessing, Dredd Foole & the Din and Cul de Sac. Side A cracks a very Vibracathedral Orchestra-type feel. Marching, militant percussion, violin acoutrements, flute spawns and a low dull bass throb. After awhile there's some muffled shouts and the appearance of some semi-regular vocals, at least for this side. Well they're more like shouts than vocals, and I can't really make any of the words out. One of the reviews posted on the Sloow Tapes blog says street preacher rants which is exactly what this sounds like but I don't know if that's the straight dope or just a homage. Anyway it reminds me a whole heck of a lot of Ya Ho Wa 13 (which is nuthin' but good news) but these vocals are a lot more obscured and not nearly as upfront as the Good Father's...which is also good news if you ever heard a Yod album and said "well, I like it, buuuut....". Maybe a better comparison would be Elisa from the Magik Markers and her bizarro stream of conscious mumbled ravings, albeit set against a decidedly more gnarly and psychedelic stoned jamming backdrop. The other side is thankfully more of the same but much more percussion based, a sturdier tribal drum beat with some bells for awhile and then a dual flute thing going on with some pretty malevolent church organ pipe vibes. The group locks into some seriously kraut grooves as showcased via Trad Grad Och Stenar, Necronomicon, Amon Duul, and all your favorites. I guess the preacher takes a breather on this one because it's all instrumental as far as I can hear. I realize everybody's in a New Weird band these days but when it's done so well like this, it just gets me right
there
...and if I was telling you this face-to-face you'd see that I'm actually pointing at my groin.
The "Graag Traag" compilation seems to have no real theme except for something I might call "bands I've never heard of who rule". Actually that's not entirely true as I remember Ignatz and one of their albums getting lots of good reviews last year and the name Silvester Anfang strokes a gong for me too. Also included are Orphan Fairytale, Benjamin Franklin, Buffle, Shattered Minds, Hardline Elephants and Gart & Seekatze, with a few of the acts pulling double duty. All these tracks are instrumental and a lot of them sound spiritually linked. Silvester Anfang's two tracks of minimal keyboards, rubber band strummed jams, lo-fi flutes and recorders buddy up almost perfectiously with Benjamin Franklin's show-stealing two tracks of playful guitar runs, epic synth swoops and other unnameable toys and gizmos. Ignatz also contribute a nice pair, the first one is a great melancholic ghost-buzz with some legitimately weird loner "vocals" (?), total outsider madness. Their other track is a similarly minimal affair but this time with various duck calls and hippie percussion played under a foggy swirl (at least I think it's their track, I started to lose track of everything by the second side). As for the band's making lone contributions, Orphan Fairytale do this one cut of of Conrad-checking flute loops and spacey UFO synths which is totally boss; Buffle and Shattered Minds dabble in the same turf of noisy, fucked up guitar skrawl like a rusty bike in a woodchipper; Hardline Elephants do a pretty lengthy tape-chopping excursion featuring a compilation of found sounds, field recordings, ribbits, whistles, regurgitations and whatever else they could get their hands on; Gart & Seekatze bow out with tremendously minimal acoustic pickings and maybe a violin too, makes for a nice duet with the ensuing tape hiss. These tracks all have names but you'll have to discover those for yourself (after you find a way to obtain this tape that is).
I already had Sloow Tapes pegged as one of those must-have can't-miss labels just from viewing the artist names, artwork, and descriptions...and these tapes proved me totally right. It's unfortunate they're not more widely produced/distributed because this is a level everybody should be heavily into. If you make just one impulse purchase this week, stroll on over to Bart's blog and see what he's got in store for you because I guarantee you'll be knocked flat. And if you don't like them I'll buy them off you. It's a can't-lose situation!