Raccoo-oo-oon - Is Night People / Dove Yellow Swans - Live During War Crimes #2 (Release the Bats CDs)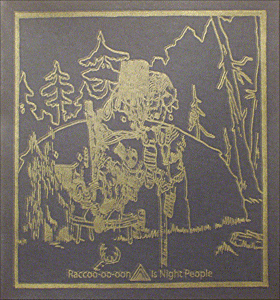 Special nods to Sweden's Release the Bats for contributing to today's double dosage of American weirdness. What we have here is a band that's been around the bend (that's the Yellow Swans) and back and a relatively new upstart group who've cut their teeth on cassettes and CD-Rs and are moving on up to the big leagues (that's Raccoo-oo-oon). Both releases come beautifully packaged: the Raccoo-oo-oon disc is in the same kind of cardboard folding sleeve as the Root Strata Bonus disc I reviewed a while back (called an "Arigato Pak" according to the press release - learn something new every day!) with a lovely gold letterpress and a cardboard insert to boot, while the Yellow Swans CD is in an oversized glossy cardboard gatefold (called a "Dual Plover" FYI) with the CD itself resting snug against a black felt backing. The Swans album is limited to 1000 copies whereas it's a count of 1080 for Raccoo-oo-oon. You know the drill.
To be perfectly frank with you, I'd already had my mind made up about Raccoo-oo-oon before I really heard them: I hated them. Don't you just have those bands that come around and rub you the wrong way (not literally, although that's possible too) off the bat? That's the vibe I held for the Raccoo-oo-oon duu-uu-udes. The whole operation just seemed to smack of that "rehearsed psychedelic pseudo-improv" (down to the hippie-folk cover art) stuff that Animal Collective seems to get away with (and wind up on the face of every magazine from Arthur to the Wall Street Journal no less). After spinning this disc a couple of times, I'm still not ready to throw down my guard and admit I was wrong and I'm a godless heathen and have mercy on my judgemental soul. Everything on the "Is Night People" album sounds pretty carefully planned out, but that's exactly what I've come to terms with. Why should they have to improvise? Moreover, why did I impose such a stigma on them? I've got no answers for those questions. It's just who I am, baby. Anyway this group gets described as a "swirling sax-and-effects-heavy free-form punk" band...I would say that's fairly accurate, except the punk part only really shows through on the last two tracks "The Canyon's Long Winding Words" and "The Great Horn of the Wilderness". And even then it sounds like they're borrowing heavily from Sonic Youth's book. But then Sonic Youth never made consistent use of shakers and sax like Raccoo-oo-oon do, so kudos to them for their original touch at least. There's a pretty decent balance of New Weird hippie feel and rock n' rollin' moves, demonstrated best on "Call Out Your Friends" when the band joins the two worlds together seamlessly. After about four minutes of No-Neckian wandering and tribal flare, they launch into this epic, thundering prog rock move that seems to come out of absolute nowhereland. It's not the same kind of face-melting dragged-behind-a-moving-vehicle feel you get when a band like Circle puts forth one of their aggressive attacks, nor is a total doom metal swipe. Somewhere in the middle, more like. But I don't care what it is, it's great. "Stamped from the Stump" and "Uh-Oh" are both rock-rooted numbers propelled by insistent drum machine (right?) loops, decorated with tons of unintelligible buried shouting and wailing and featuring guitar lines reminiscent of post-rock groups like Mogwai or Do Make Say Think. I'm almost mad at myself for liking "Fluff Up Your Fur" as much as I do since its pure psych-pop (or pop-psych to be more exact) intentions are almost painfully pastiche, but I guess therein lies the charm because once this one gets into your head, there's no getting it out. And also it reminds me a lot of Animal Collective, perhaps another reason for my attempted disdain. But I guess I'm just a pushover, although that near-acappella refrain of "a miracle is a miracle" pushes it! Totally hard for me not to enjoy a large part of this, because it's pulled off with an air of unabashed naiviety. I wish they'd indulge in those punk/rock leanings a little more though...when I first read the description I reprinted above, I was hoping I was way off base and Raccoo-oo-oon were a scuzzy, lo-fi psych punk band sorta along the lines of what you'd hear from the Jewelled Antler Collective's Pink Skulls CD-R label. Oh well, the end result wasn't so bad after all. Certainly a band worth keeping an ear on at the very least.
The Yellow Swans are also known for their forays into psychedelics, but that's not the case on "Live During War Crimes #2". Culled from a recent U.K. trek earlier this year, these five untitled jams are absolutely
brutal
. Wholly dark, harsh, droning throbs putting the proverbial smackdown on your ears for some 40 minutes. I don't think I've ever heard the Swans play so aggressive - makes me regret skipping them when they rolled through with Grouper in tow recently (Liz Harris of Grouper also provided the drawing on the cover, incidentally). The whole CD is like a sickening roller coaster ride: the duo of Pete Swanson and G.M.S. strap themselves in, put their heads down, and focus intently on building up a furious churning din until the sound seems to overwhelm your headphones and pour out the sides. Visceral, beastly, and insanely powerful. The only real respite comes at the end of track four (previously heard on a Fuck It Tapes release according to the album innards), which spirals off into a dusty-basement collection of death ambient emissions and chilled sonic tension. But the true coup d'état is the 10-minute closer, where the duo shuffle and noodle around for a bit before quickly setting the wheels in motion for a real ass-blaster that is sincerely up there in league with Sunn O))) in terms of heavy gut-busting air-curdling stormcloud threat. The little photo in the album sleeve shows the Swans' and their gear set up with nary a guitar in sight but that's exactly what it sounds like this piece is based off. Even if there really isn't a guitar, this piece demolishes several other doom/drone metal acts which rely so desperately on the instrument. Fuckin' a! I don't know what these guys had to eat before the show to get in such a mood but I'll have what they're having, please and thanks. Highly recommended.
It's also worth noting that jack of all trades Pete Swanson is resposible for the mastering not only on his own Yellow Swans record, but on the Raccoo-oo-oon album too. The jury's still out on the latter (at least for me, I need to hear more I think) but they've been getting so much praise from every other blog/zine on the planet that they don't need my help anyway. As for the Yellow Swans album, I was just thinking to myself recently that for all I've heard from DYS, they've never had a release that truly blew me away. They've been consistently good, but never anything more than a casual liking. Safe to say that's all changed with "Live During War Crimes #2", it's the best shit I've ever heard them spew and you can take that to the bank. And again, cheers to Release the Bats for the great design jobs. If only all labels would put so much effort and dedication into making their records presentable. They've got releases on the way from the Non-Horse, Catena Collapse, Suis la Lune and the Holy Kiss so stay tuned if any of that interests you because I'm sure they'll look just as good as these.