Mutant Ape - No Bodies (Amorf 3" CD-R) / Damno Te - I Bury the Living (Amorf CD-R) / Olivier Pé - Percées (Amorf 3" CD-R)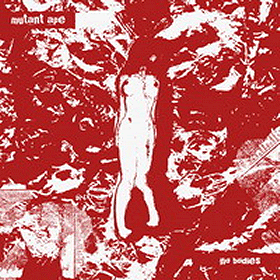 The Amorf Sounds label recently obliged me by sending three CD-Rs my way from artists I am totally unacquainted with (well the names Mutant Ape and Damno Te rang some distant bells but that's about it). Woe to my ignorace! Anyway first a bit about this Amorf label, who are based in Belgium but seem to carry no geographical prejudice when it comes to putting out albums - Damno Te is from Canada, Mutant Ape hails from the U.K., and Olivier Pé is a Belgium native. All these jammers come in slimline jewel cases housing spraypainted discs and some pretty pixellated Photoshop-style artwork. As you do.
The internet tells me that George Proctor's Mutant Ape project has quite a few fans, considering he's put out records on Audiobot, Chondritic Sound, Obscurica, Brise-Cul as his own Turgid Animal label. The sounds on this 3" are pretty straight-forward harsh noise manifesto loaded with all kinds of industrial/power electronic ammunition. At least, that's what I hear. Every now and again a stern, William Bennett-esque voice undercuts the dark, swooping sonics intoning some kind of inaudible instructions. There's three tracks across 20 minutes with the opening "The Fall of White" taking up half that, and it's easily the best track. With that amount of time it's easy to find yourself locked in the blizzardy churn building up around your head. The drones weaving in and out of "sight" make for fine hypnotizing haberdashery. The other two shorter tracks are "Keep the Hate" and "When I Wraith", the former a phantom train peaking at cruising velocity with Proctor's garbled voice serving as conductor while the other reminds me of a way heavily damaged "Cut Hands Has the Solution", minus the screeching that makes the Whitehouse track so exhilerating. Suitably mutant for the name chosen and definitely a match made in heaven with that artwork.
Like Mutant Ape, Damno Te dabbles in both noise and labels, as he also runs the Titus record label. According to the Amorf blurb, "I Bury the Living" is dedicated to his second favorite black and white film (I'll let you guess what the title of the movie is). Judging from the noise Damno brings here, How Green Was My Valley is not the number one pick. Damno's M.O. is almost full-on harsh noise overdrive, scintillating analogue spike tones hurtling through the stratosphere exploding on contact with one another. What's curious about his approach is that Damno has this rhythmic side, where every now and then his noise whirlwinds break up into decidedly-abrasive beats and loops like a Throbbing Gristle or early Merzbow something-or-other. These moments are too few and far between (see tracks "Honegger" and "Trowbridge") though because for the most part Damno's sound is as black and white as "I Bury the Living"'s cover art and the movie which inspired it.
Unlike the other two, Olivier Pé's disc is not at all harsh...instead it's a rather nice, at times lovely, at times humdrum 20-minute flutter through field recordings, tape loops, non-instrumentation and a lot of other stuff I can't put my finger on. Across these five untitled pieces Pé does his best to conjure up the greats of the avant-garde scene - the filth and dirt of John Lomax's field recordings on track one, a muddled Harry Partch opera style droning on track two (and a very Hermann Nitsch synth sounding one on the next cut), Reich/Glass-infected skittery string-and-keys loops on the fourth and the other-worldly buzz and hum of AMM on the last. That's not to suggest Pé is a rip-off artist in the slightest because these all come off with their own flair (often mutating into something else altogether before the track's average five minute running time is up). And if he
is
a rip-off artist, well he's picked some pretty good names to have a run at. I could see myself putting this one on again in quieter moments; not when I wanted to be bludgeoned to death as I was on the first couple.
All that said these are pretty fine dishes if you're into that sort of thing, me I'm not
so
big on the formless noise but I guess that's my cross to bear. My only complaint/suggestion to the Amorf camp would be to work on that packaging because it's always nice to have eye candy to go along with what you've feeding the ear with if you dig my jive.